İzmir Tour Guide
Hit the Road to İzmir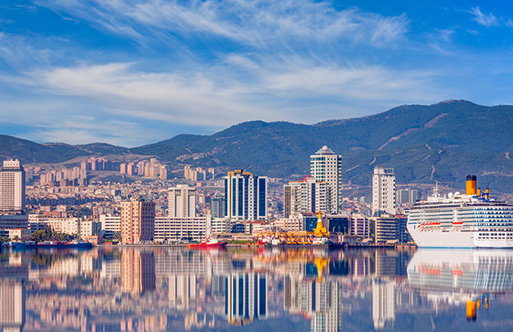 İzmir
İzmir is a special city that inspired many poets such as Edip Cansever, Attilâ İlhan and Bedri Rahmi Eyüboğlu with its beauty. It also promises an exciting historical journey and natural discoveries. "What to eat in İzmir?", "Where to eat in İzmir?", "What are the historical places of İzmir?" and "Which beaches should be visited in Izmir?" We asked these questions to locals of İzmir. We think that the answers we receive will make your trip even more enjoyable. But first thing you need to do is to rent a car in İzmir. You can quickly complete your car rental transactions in İzmir from the Budget İzmir car rental office. If you have completed the İzmir car rental process, you are ready to set off.
What to Eat in Izmir?
Although the first flavors that come to mind when it comes to İzmir are İzmir meatballs, kumru and boyoz, olive oil dishes and Aegean herbs reflect the cuisine culture of this city. You can eat the best of cnicus, artichoke, crocus and fennel in İzmir. You should also try Bergama meatballs and Selçuk skewers.
It is impossible to think of an İzmir feast without fish. Turbot, sea bass and mullet are just some of the fish you should taste in this city. Lokma and subye belonging to İzmir Jews are among the desserts specific to the city. In addition to all these, you can meet delicious tastes such as roasted asparagus, kirde kebab, beans in vine leaves and cibez herb in İzmir.
Where to Have Breakfast in İzmir?
There are many places in İzmir where you can have breakfast; you can reach some of these places in the city center and some in relatively remote locations from the city center. For example, one of the places with the most popular breakfast areas is Alsancak Kordon. You can also enjoy the places where delicious breakfasts are served on the beaches of Güzelyalı, Karşıyaka and Bostanlı.
When you move away from the central İzmir, different breakfast places will be waiting for you. After having breakfast in destinations such as Güzelbahçe, Urla, Sığacık and Foça, unique discoveries will be waiting for you.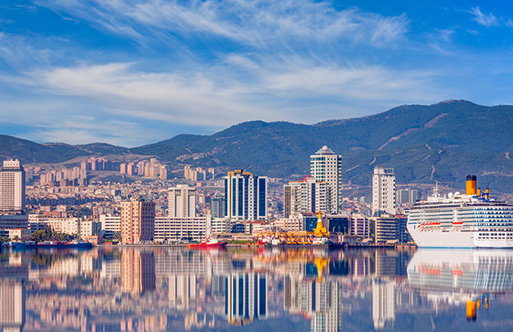 Where to Eat in İzmir?
İzmir is a city where many different flavors are served together, fascinates with its nature and drags you to completely different experiences with its sincere locals. The freshest of seafood, the most delicious of red meat, and the most natural of local flavors can be found in İzmir restaurants.
Since the answers to the question on where to eat in İzmir are quite varied, you can follow the recommendations according to what you want to eat. Since İzmir is a coastal city, seafood is very popular. You can find many restaurants in different concepts where you can taste seafood in Güzelbahçe, Güzelyalı, Alsancak, Bostanlı and Karşıyaka. It is possible to experience a unique culinary feast in the coastal areas of İzmir.
Apart from seafood, you can easily find kebab varieties, elite flavors from Turkish cuisine, soups, herbs and global dishes in İzmir.
Places to Visit in İzmir
The center of İzmir is full of places to see, such as its surroundings. You can visit the Agora Open Air Museum, then take a walk in Kordon. The lively streets of Alsancak as the heart of the city, the historical Kemeraltı Bazaar and the clock tower in Konak are some of the places that locals of İzmir recommend you to see.
It will be easier to get away from the center since you rent a car. In locations such as Seferihisar Sığacık, Çeşme, Alaçatı, Yeni Foça, Eski Foça, Dikili, Çeşmealtı and Urla, you can both visit historical buildings and explore the beauties of the towns.
Historical Places of İzmir
Undoubtedly, you should definitely see the ancient city of Ephesus, which dates back to 6000s BC. We can say that the magical city founded by the Greeks and then ruled by the Romans will play the leading role in your memories. When you realize the length of the road while visiting this unique historical area, you will be very pleased that you rented a car in İzmir. You can easily extend your trip as there are many charming boutique hotels where you can stay in Selçuk Efes; and you can also add Ayasuluk Castle and Seven Sleepers to your route. We also want you to know that the House of Virgin Mary is also very close to the region. This historical building among the greens is flooded by thousands of tourists every year.

While you are in Ephesus, you can also stop by Şirince, 10 kilometers to the east. Stroll around the narrow streets of the village and be sure to see its historical houses. Do not forget to try the fruit wines too!

Pergamon, which is on the UNESCO World Heritage List, is another important ancient city located approximately 110 kilometers from İzmir. Pergamon, one of the most important parts of İzmir's cultural heritage, is a special place where you will feel the past in all its glory like Ephesus. After Pergamon, it may be an interesting experience to see the Bergama Museum, where precious artifacts found in excavations are exhibited.
Nightlife in Izmir
Alsancak, where the heart of nightlife beats in İzmir, is the address of those who say the day should not end. In Alsancak, you can find many bars lined up side by side in Gazi Kadın and Muzaffer İzgü Street. At the same time, you can experience a lively night at nightclubs in Alsancak and Bayraklı.
Apart from Alsancak, we are sure that you will have a pleasant time in the venues in Bayraklı, Bostanlı and Karşıyaka. If you have the chance to detour to holiday resorts, you can have an unforgettable experience at the venues in Çeşme Alaçatı.
İzmir Car Rental
It will allow you to explore the city with pleasure by renting a car from the Budget İzmir car rental office. You can make your booking for renting a car in İzmir by phone or via our website.

Budget İzmir Car Rental Office
Address: Şair Eşref Bulvarı No: 22/G Çankaya Konak İzmir
Phone: (0549) 761 8313
www.budget.com.tr
Addresses
Ilıca Beach: Ilıca / Çeşme / İzmir
Kocakarı Beach: Dalyan / Çeşme / İzmir
Agora Open Air Museum: Namazgâh 816. Sok. No: 16 Konak / İzmir
Kordonboyu: Atatürk Cad. Konak / İzmir
Kemeraltı Bazaar: Anafartalar Cad. Konak / Izmir
Clock Tower: Konak Square / İzmir
Ephesus Ancient City: Ephesus Ruins / Selçuk / İzmir
Pergamon Ancient City: Bergama / İzmir
Bergama Museum: Cumhuriyet Cad. No: 10 Bergama / İzmir