Kuşadası Tour Guide
Hit the Road to Kuşadası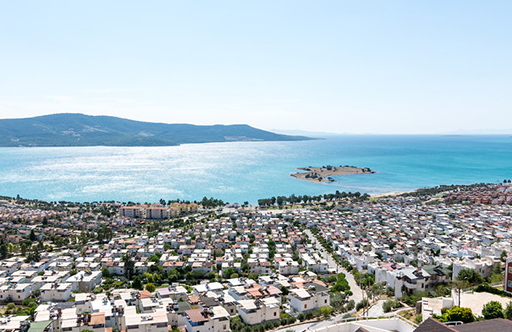 Kuşadası
It is everyone's dream to get away from the crowd of the city, escape to the Aegean and spend a few quiet days. It seems that you are one of the lucky ones who can make this dream come true. Renting a car in Kuşadası is the first thing you should do before you start exploring the region. Because many there are many hidden beauties waiting to be discovered at different points of this beach resort. "Where are the places to visit in Kuşadası?", "What to eat in Kuşadası?", "Which beaches should you prefer?" We asked these questions to those living in Kuşadası and compiled their recommendations for you.
What to Eat in Kuşadası?
If you are in a place with a coast to the Aegean, you will always get the same answer to this question: Aegean herbs and fish. The is the same in Kuşadası. Sea bream, red mullet and sea bass come to mind first. If you like red meat, especially lamb, pay attention to the people of Kuşadası and try Aydın stew. Also, make sure to have incir telemesi in the dessert section of your list of flavors to taste.
The flavors you should try in Kuşadası cuisine, where olive oil is used generously, are not limited to what we have just mentioned. Spinach flatbread, stuffed zucchini flowers, purslane meal, kulaklı soup, Cretan style Hanya pastry and stuffed bread will definitely surprise you with their taste.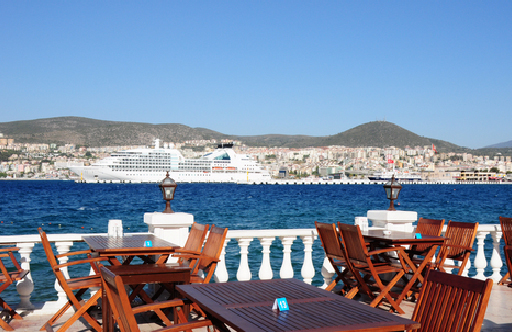 Where to Have Breakfast in Kuşadası?
As in many counties in the Aegean Region, having breakfast in Kuşadası turns into a complete feast. While organic breakfasts are delicious, you cannot get enough of the mixed breakfasts. Alternatively, it should be known that there are breakfast places where you can taste Aydın's unique toasts and pancakes flavored with fresh herbs. In short, whatever flavor you want to start the day with, Kuşadası breakfast places offer a taste and service that will fulfill your expectations.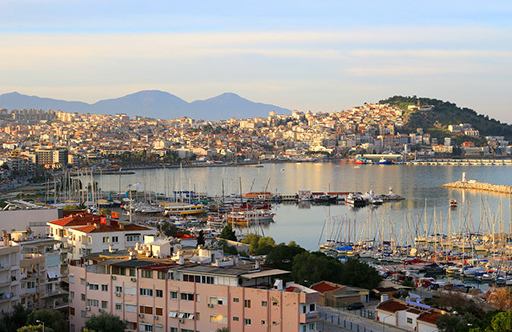 Where to Have Lunch and Dinner in Kuşadası?
Kuşadası is a district that is visited by local and foreign tourists throughout the year, mostly in the summer months. As it attracts visitors from almost all countries of the world, it can be said that the variety of flavors it offers is unlimited. Therefore, it is possible to give multiple answers to the question "Where to have lunch and dinner in Kuşadası?".
If you want alcoholic beverages to accompany your meal, you can choose fish restaurants close to the center of Kuşadası, around the harbor. Apart from the fish restaurants in the region, you can find alternatives where you can eat red meat. If you prefer a more modest meal, we recommend you to try the small pita makers in the region. Also, you can find very good examples of Aydın pita in the district.
Places to Visit in Kuşadası
Dilek Peninsula, which is about 50 km from the center, should be the first stop of your trip in Kuşadası. This large area, which is a National Park, looks like an open air museum that offers a closer look at the deep-rooted history of the region. In the park, you can see the Aya Yorgi and Haigos Antonios monasteries, Thebes and Panionion ancient cities, which are important parts of Aydın's cultural heritage. The beach, which is home to over 800 plants and dozens of animal species, is also wonderful. You can choose the beach of Zeus Cave for swimming. Speaking of Zeus Cave, we would like to give a brief information about this natural wonder. This natural wonder, which is about 500 meters behind before reaching the National Park, has soda water. Although the entrance to the cave is quite rocky and the water is ice cold, entering this clear water during summer months can turn into a great pleasure. However, you should be careful as it can be very difficult to stay on the surface since the water is quite deep and has soda.

Alternatively, you can explore Didim's coves, about 50 kilometers from Dilek Peninsula, and meet nature at and around Bafa Lake. Let us remind those who have time that Kuşadası is approximately 100 kilometers from İzmir and 160 kilometers from Çeşme.
If you want to stay in the center, you should definitely see Güvercinada, which is the symbol of Kuşadası and offers an exquisite view. Here you can swim and watch the sunset. Yılancı Cape and Ladies Beach opposite Güvercinada stand out as two points where you can enjoy the sea.
Historical Places of Kuşadası
Although you have seen many ancient cities and structures on the Dilek Peninsula, the historical sites of Kuşadası are not limited to these. Milet is 77 kilometers from the center and 40 kilometers from Priene.
Kurşunlu Monastery, which makes a strong impression with its architecture, is only 20 kilometers from the center. You can enjoy the magnificent view after seeing the 600-meter-high structure.
Caravanserai, Kaleiçi Mosque, city walls and historical artifacts in Kasım Yaman Park will make the center more enjoyable for you.
Nightlife in Kuşadası
Every sentence that starts with "nightlife in Kuşadası" brings Kaleiçi to mind. As we have just mentioned, since it is an important global tourism center, it is known that the nightlife in Kuşadası is very vibrant and even those who live in the surrounding holiday resorts come to the district to have fun.
Kuşadası Car Rental
You can enjoy exploring Kuşadası by renting a car from the Budget office. You can make your booking for renting a car in Kuşadası by phone or via our website.
Budget Kuşadası Car Rental Office
Address: Camikebir Mah. Kemal Arıkan Cad. No: 16 Kuşadası Aydin
Phone: (0256) 6125806
www.budget.com.tr
Addresses
Milet Ancient City: Balat Village Aydın
Priene: Söke Aydin
Kervansaray: Atatürk Bulvarı Emniyet Müdürlüğü yanı Kuşadası
Kaleiçi Mosque: Camikebir Mah. Yedi Eylül Sok. No: 8 Kuşadası
Kasım Yaman Park: Kuşadası Merkez