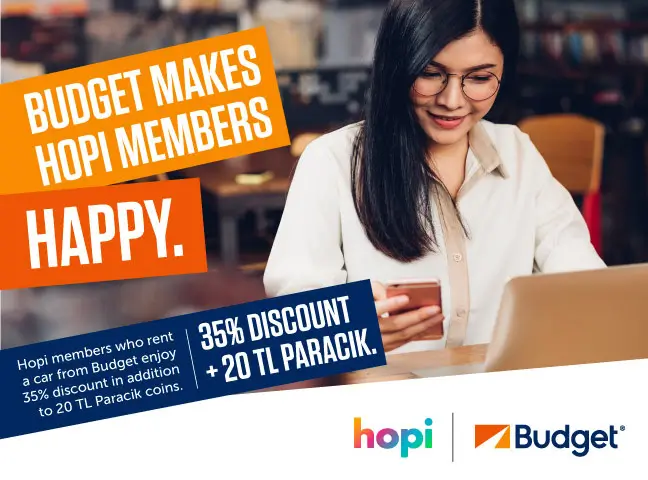 Shop
Budget's Special Offer for Hopi Members
Hopi members earn Budget rental discounts and Paracık points!
Campaign Participation and Car Rental Conditions
The campaign is valid until 31.12.2023.
The offer gives the customers with a valid receipt 35% discount on car rentals and 20 TL Paracık points per rental.
To make a reservation, please go online at the Budget website or call 444 4 722. For call center reservations, make sure to emphasize that your booking will be made with your Hopi membership.
To redeem the rewarded points, the Member must submit the QR promo code, which was generated for him/her, during pickup at the office.
The offer is valid for daily rentals.
Budget general rental terms and conditions apply.
The offer may not be used with any other Budget offer.
Hopi and Budget reserve the right to change the terms, conditions and scope of the offer.
Hopi Paracık points may not be redeemed against Budget car rentals.
Paracık points are loaded once the receipt is issued.
The offer is available at Budget's Istanbul, Adana, Ankara, Antalya, Bodrum, Bursa, Dalaman, Izmir and Konya offices.