İzmit Tour Guide
Hit the Road to Izmit
İzmit with its historical and natural beauties
Historical buildings, pleasure on the shores of the Black Sea, delicious food... Although İzmit is one of the important industrial centers of our country, it offers many hidden beauties to travelers. Renting a car is all it takes to explore the city. Another important factor that will give you ease after renting a car in İzmit is the suggestions of local of İzmit. "What to eat in İzmit?", "What are the places to visit in İzmit?" The answers given by the locals of İzmit to such questions will make your İzmit trip more enjoyable.
What to Eat in İzmit?
Umaç soup, which is a unique flavor easy to make, is an indispensable part of the cuisine. You may also be interested in the dish called mancar, which is prepared with herbs such as spinach, efelik and lamb's quarter. According to locals of İzmit, you should definitely taste the trout on clay, homemade pastas and roasted liver. Kandıra's famous buffalo yoghurt and pişmaniye, the classic of intercity travels are among the unique dishes of the city.
İzmit is one of the cities where local cuisine is remarkable. Akıtma, otur Fatma dessert and höşmerim are some of the flavors that will sweeten your İzmit trip.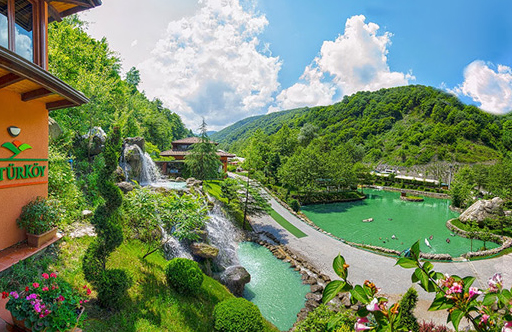 Breakfast Places in İzmit
İzmit is one of the cities that stands out with its natural beauties where delicious breakfast experiences can be experienced. You can find natural foods in breakfast places designed in different concepts, and enjoy mixed breakfasts in places intertwined with nature.
Where to Eat in İzmit?
İzmit restaurants can appeal to different tastes. In addition to restaurants where you can taste the most delicious examples of red meat, you can also prefer places where local dishes are served. You can complete your lunch and dinner at elite venues at destinations within the city and within a distance that can be reached by rental cars from İzmit city center.
Places to Visit in İzmit
Located on the Black Sea coast of the city, Kefken is one of the places that is special through all four seasons. The region, which is about 65 kilometers away from İzmit center, is preferred for sea vacations especially during summer months. Those who will come to İzmir during hot seasons should definitely include Kefken in their routes. Kumcağız Beach, which you can reach on foot from the Kefken center, is one of the most beautiful beaches here. You shouldn't leave Kefken before seeing the pink rocks. Rocks that are soft when in water and hardened when removed were used in the construction of many buildings during the Ottoman period. Sultanahmet (Blue) Mosque in Istanbul is the best known of these buildings.

Erim Hill is another point of interest in Kefken. Preferred by those who want to watch the sunset with its central location in the region, the hill promises pleasant hours with its romantic atmosphere and view.

According to locals of İzmit, Gayret Naval Museum should be on your list of places to see. USA Everson ship, built in 1946 and used during the Korean and Vietnam wars, passed to the Turkish Navy in 1973. Renamed as TCG Gayret, the ship was later converted into a museum. Striking photographs and objects in relation to recent wars are displayed on this giant ship, which promises an interesting museum experience.
Kocaeli Archeology and Ethnography Museum, which is 17.5 kilometers from İzmit center, is open to visitors who want to take on a journey to the past of İzmit, which has a history of about 5000 years. Artifacts belonging to the Hellenistic, Byzantine and Ottoman periods are exhibited in the museum.
Historical Places of İzmit
Surviving historic buildings of the city sheds light on Turkey's history. The most important of these buildings is Osman Hamdi Bey House and Museum, 68 kilometers from the center. The mansion built in 1884 by Osman Hamdi Bey, a painter and museologist who guided Turkish art, can be visited today as a museum. Visiting the mansion where the painter gave life to his most famous paintings can be an inspiring experience.
Kasr-ı Hümayun Palace Museum is another building that locals of İzmit recommend to be on your travel list. The building, bearing the signature of Garabet Amira Balyan, one of the famous architects of the Ottoman Empire, was built as a hunting lodge for Sultan Abdulaziz in the late 19th century. Like many buildings bearing the signature of the Balyans, the Kasr-ı Hümayun Palace fascinates those who see it. The Clock Tower, next to Kasr-ı Hümayun Palace Museum, is among the symbols of the city. The tower, built to celebrate the 25th anniversary of Abdul Hamid II's reign, is the work of famous architect Vedat Tek.
Nightlife in Izmit
There are many different alternatives for live music performances in İzmit. Nevertheless, it should not be forgotten that the city does not have a very vibrant nightlife, but it is very close to Istanbul. You will have the freedom to visit different stops in İzmit and Istanbul to have entertaining evenings with the car you rent. The choice is completely up to you!
İzmit Car Rental
Renting a car from the Budget İzmit office will allow you to easily meet the beauties of the city. You can make your booking for renting a car in İzmit by phone or via our website.
Budget İzmit Car Rental Office
Address: Yenidoğan Mah. 4. Geçit No:7 İzmit Kocaeli
Phone: (0262) 332 4499
www.budget.com.tr
Addresses
Gayret Naval Museum: Salim Dervişoğlu Cad. No: 56 İzmit
Kocaeli Archeology and Ethnography Museum: Atatürk Mah. Kozluk Sok. Alikahya İzmit
Osman Hamdi Bey House and Museum: Eskihisar Village Osman Hamdi Bey Cad. Gebze Kocaeli
Kasr-ı Humayun Palace Museum: Kemalpaşa Mah. Saray Yokuşu İzmit
Clock Tower: Kemalpaşa Mah. Hürriyet Cad. İzmit