Konya Tour Guide
Hit the Road to Konya
Konya
Although Konya, identified with Mevlana, is mostly known as a mystical city, it is much more in essence; it has a deep-rooted history and impressive natural beauties. One of the first things to do to explore Konya, which is one of the largest cities of Turkey, should be to rent a car. After renting your car, you can plan your trip based on the answers provided by locals of Konya to questions such as "What to eat in Konya?" and "Where are the historical places of Konya?"
What to Eat in Konya?
Konya, which is located in Central Anatolia and has hosted many civilizations throughout the history, has magnificent local flavors. Although the most well-known local flavor is etli ekmek, there are many other wonders to discover in Konya cuisine. Sac pastry, Arabaşı soup, okra soup, etli topalak, batırık, oven kebab, wedding pilaf, Mevlana pastry and tirit are among the dishes you must try on your Konya trip.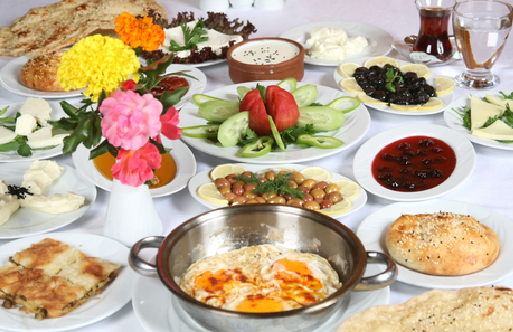 Where to Have Breakfast in Konya?
There are many different breakfast places in Konya. In these places, mixed breakfasts are appreciated by the visitors as well as local flavors. You can discover various taste stops in central Konya and surrounding districts. You can try the most delicious breakfast options by renting a car in Konya.
Where to Eat in Konya?
There are many traditional restaurants to eat in Konya. You can find both local dishes and delicious kebab alternatives in restaurants that are masters in terms of must-try dishes. Since there are places serving with different concepts, you should decide which one to go to based on your tastes and preferences. If you tell your wishes to the welcoming local people in the area, they will assist you about the best addresses to eat.
Places to Visit in Konya
Akşehir, where Nasreddin Hodja is believed to have lived, is one of the most important places that locals of Konya suggest you to see. You can start your Akşehir tour with Nasreddin Hodja's tomb, which is about 135 kilometers from the city center.
You can visit the Nasreddin Hodja Archeology and Ethnography Museum after the tomb, which unknown date of construction and repaired in 1905. Lake Akşehir, where Hodja pours yeast, is one of the richest and most relaxing natural spots of the city.
Meram Vineyards, where you can spend a few hours, is a place defined as an "oasis" by the local people. Vineyards, picnic areas, walking paths, pine trees and rose gardens 27 kilometers from the city center promise peaceful moments to their visitors. You can also find peace during your time in Meram Vineyards and immortalize your memories by taking magnificent photographs.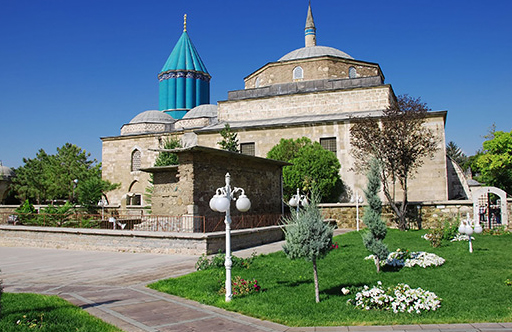 Historical Places of Konya
Perhaps the most important thing to do when you arrive in Konya is to go to the Mevlana Museum. The great Sufi's lodge, whose name is associated with love and tolerance, is located within the museum complex. The lodge has been open to visitors since 1926. In the museum, where the Kubbe-i Harda Tomb, also known as the Green Dome, is located in the center, valuable manuscripts, patience stones and many objects belonging to the dervish lodge are exhibited. Being so close to Rumi, who changed people's hearts with his Mesnevi, will be a completely different experience for you.

Hagia Elena Church, built by Helena, mother of the Byzantine Emperor, in 327 AD, is the most important legacy of the Christians who lived in the region. The church is located approximately 7 kilometers from Konya center, and it is an attraction for Christians visiting the region.
Kilistra Ancient City, with its history dating back to the 3rd century BC, is a must-see for those interested in history. Kilistra is as interesting as Cappadocia according to the locals of Konya. Do not leave Konya without seeing the decorations, inscriptions and structures from the Byzantines in Kilistra.
İnce Minareli Madrasa, one of the special examples of Seljuk architecture, is among the primary buildings worth seeing. The madrasa, which is now the Stone and Wooden Houses Museum, is 1.5 kilometers from the city center.
Nightlife in Konya
Konya is not one of the cities with a vibrant nightlife. In order to have fun and relax after a tiring day, bars of luxury hotels are generally preferred. A relatively quiet but unforgettable evening can be experienced accompanied with different types of music performances.
Konya Car Rental
Renting a car from the Budget Konya office is the most practical way to explore the city. You can make your booking for renting a car in Konya by phone or via our website.
Budget Konya Car Rental Office
City Office Address: Ferhuniye Mah. Ahmet Hilmi Nalçacı Cad. Hukukçuları Sitesi C Blok D: 14/A Konya
Phone: (0332) 234 3147
www.budget.com.tr
Addresses
Nasreddin Hodja Tomb: Akşehir Konya
Nasreddin Hoca Archeology and Ethnography Museum: Selçuk Mah. Ulucami Cad. Akşehir Konya
Akşehir Lake: Akşehir Konya
Mevlana Museum: Aziziye Mah. Mevlana Cad. No: 1 Karatay Konya
İnce Minareli Madrasa: Selçuklu Konya