Samsun Tour Guide
Hit the Road to Samsun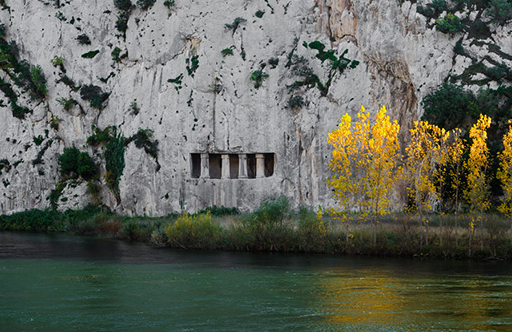 Samsun
Renting a car in Samsun should be at the top of your to-do list in the city. In this way, you can have more time to see the places suggested by people living in Samsun. "What to eat in Samsun?", "What are the places to visit in Samsun?" You will enjoy the city more with the answers to these questions.
What to Eat in Samsun?
Samsun has many local flavors to be tasted. Among these delicious dishes include Terme pita, goose pilaf, katık sündürmesi, spinach soup, corn and beans soup, haluçka, anchovy on paper, mushroom pilaf, yazı chard dish, poppy muffin and karmaç.

Baklalı sarma and roasted bean pickles are the favorites of Samsun cuisine. According to the people of Samsun, you should definitely taste Bafra pita and içli mantı in the city. You should also not forget to try the nokul and hazelnut baklava.
Where to Have Breakfast in Samsun?
There are many different places to have breakfast in Samsun. Natural foods specific to Samsun can be tasted in these places that offer a very nice experience. Moreover, it is possible to make a fine start to the day with mixed breakfasts. Having breakfast on the beach will also make you have a pleasant experience.
Where to Eat in Samsun?
There are famous restaurants where you can taste unique dishes of Samsun. Traditional and modern restaurant options serving mainly red meat dishes and pita varieties are waiting to be discovered in the city. You should know that there are places that serve in different concepts in locations close to the city as well as the city center, which allow you to have your lunch and dinner with pleasure. Therefore, answers to "Where to eat food in Samsun?" can change based on your expectations.
Places to Visit in Samsun
Kızılırmak Delta Bird Sanctuary, which hosts more than 300 bird species, is located approximately 60 kilometers from the city center. There are two bird spotting towers and an exhibition hall in the park which is one of the first stops to be seen in order to explore the nature of the city according to people of Samsun. You can spend peaceful hours in the destination, which is the home for species such as the great sea whistle, north pearl bird, little bunting and white berry bird, living only in the Kızılırmak delta.

Ladik Lake, about 87 kilometers from the city center, is another destination where you can meet nature in Samsun. The lake, which has a very peaceful atmosphere, is the favorite destination of sailing and surf lovers in the city. People of Samsun suggest you to spend half a day at Ladik and enjoy the relaxing lake.
Samsun Atatürk House was built in accordance with the original of the house where Mustafa Kemal was born in Thessaloniki. Opened to visitors in 2006, the building can be visited during a visit to Tekkeköy, which is 10 kilometers from the city center.
Historical Places of Samsun
Asar Castle, which is thought to date back to the 3rd century BC, is one of the oldest buildings in Samsun. The historical castle, where you can also see the Paphlagonian rock tombs, is about 80 kilometers from the city center.

Since the War of Independence started in Samsun, you will see monuments about Atatürk and the war in every corner of the city such as İlkadım Monument and the Honor Monument. Bandırma Ferry, which brought Atatürk to Samsun, can also be visited in the city.
The Hotel named Mantika Palas, where Atatürk stayed and later converted into a museum, is also one of the places dedicated to the founder of the Republic. In the hotel, which serves as the Gazi Museum, Mustafa Kemal's study room as well as documents and photographs of the period are exhibited. We think it is worth seeing, what do you think?
Nightlife in Samsun
Samsun, as one of the most crowded cities of the Black Sea Region, is one of the provinces where nightlife is very vibrant. Presence of a university in Samsun, which is one of the places frequently visited by tourists in summer and winter months, is one of the factors that positively affects the nightlife. If you want to spend a fun night in Samsun, your first stop should be Atakum. You can find many places where you can have fun with live music in the district.
Car Rental in Samsun
Renting a car in Samsun will allow you to explore the city easily with pleasure. You can make your booking for renting a car in Samsun by phone or via our website.
Budget Samsun Car Rental Office
Address: Çarşamba Airport
Phone: (0362) 844 8898
www.budget.com.tr
Addresses
Kızılırmak Delta Bird Paradise: Turgut Özal Bulvarı Bafra Samsun
Samsun Atatürk House: Samsun-Ordu Karayolu üzeri Kirazlık Köprüsü yanı Kirazlık Mevkii Tekkeköy / Samsun
Asar Castle: Asar Village Bafra Samsun
Gazi Museum: Kale Mah. Mecidiye Cad. İlkadım Samsun
First Step Monument: Kale Mah. İlkadım Samsun
Bandırma Ferry: Yeni Mah. Atatürk Bulvarı Belediye Evleri Canik Samsun
Samsun Archeology and Ethnography Museum: Kale Mah. 19 Mayıs Bulvarı No: 5 Samsun