Tekirdağ Tour Guide
Hit the Road to Tekirdağ
Tekirdağ
Some routes are known only to travelers and those who want to get away from the crowds. Tekirdağ is one of these cities with its historical buildings, bays, vineyards and warm places. The first thing we suggest you to do to explore this city, where you will find more than you can imagine, is to rent a car. You can start asking questions such as "What to eat in Tekirdağ?", "Which of Tekirdağ beaches should you prefer?", "How to explore the historical places of Tekirdağ?" after renting a car in Tekirdağ. We asked these questions to the locals of Tekirdağ for you and compiled the answers we received. Now you can start this pleasant journey.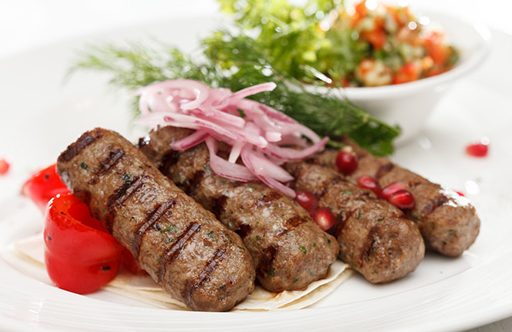 What to Eat in Tekirdağ?
Of course, Tekirdağ meatballs! Tekirdağ poached egg is another flavor that is identified with the city in addition to the meatball which differ from the others with their taste and shape. It is prepared with minced meat and eggs, served with yoghurt and sauce. Locals of Tekirdağ also recommend that you try the ciğer sarması, damat paçası and Hayrabolu dessert. Of coursei it is not over yet; there are many unique flavors to discover in this city. Dishes such as Sini mantısı, zennik, papaz mancası, yoghurt borani, bulama and burma sucuk are waiting to be discovered in Tekirdağ!
Where to Have Breakfast in Tekirdağ?
If you want to have breakfast in a peaceful place where you can greet the day accompanied by the sounds of birds, you are at the right address in Tekirdağ. In Tekirdağ breakfast places where everything is natural and homemade, it is easy to start the day joyfully!
We recommend that you also consider the mixed breakfast options in Tekirdağ. Enjoying breakfast in the city center or in places in the nature is another pleasure!
Where to Eat in Tekirdağ?
"Where to eat in Tekirdağ?" the answers to this question may vary according to the flavor desired to be tasted. Because there are many different venues where all these flavors can be found together! Depending on which flavor you want to explore, you can choose between Tekirdağ restaurants and enjoy the beauties of Tekirdağ while you are full at lunch and dinner.
Places to Visit in Tekirdağ
Şarköy is one of the popular destinations where you can enjoy the sea and the sun. Kumbağ and Marmara Ereğlisi are also places where you can enjoy the sea.
Uçmakdere and Kastro National Park, which is under protection, are among the places where locals of Tekirdağ recommend you to see. You can spend peaceful times while hiking in these destinations.
You can swim in Kastro, ride a pedalo at Bahçeköy Creek and take a walk in the forest. It can be very enjoyable for you to see the vineyards of Barbaros and the Hora Lighthouse built by the French for Abdulmejid in the 19th century.
Historical Places of Tekirdağ
Rüstempaşa Mosque, built by Mimar Sinan, is one of the most important historical buildings of Tekirdağ. The five-column marble fountain in the garden of the mosque as well as its gate and window flaps are dazzling. After seeing the Rüstempaşa Mosque, you can visit the Rakoczi Museum. The house, where Hungarian Prince Francis II Rákóczi lived for 15 years is accepted as the most beautiful examples of Ottoman architecture.
Hora Lighthouse is another historical building which has been actively used since 1861 when it was built for Sultan Abdulmejid I.
The house, which was built in 1993 to honor the memory of the famous poet Namık Kemal from the city and serves as a museum now, is one of the places where Tekirdağ residents recommend visiting.
Ancient cities in Tekirdağ are also among the destinations that welcomes visitors throughout the year. The most important of these ancient cities are Bisanthe and Heraion Teikhos founded in 6 BC. It is useful to remind that Çorlu Castle, which has a history dating back to the 6th century AD, is among the destinations you should add to your route.
Nightlife in Tekirdağ
You can be a part of a vibrant nightlife in Tekirdağ. Night clubs that help you relieve the tiredness of the day, offer different types of music performances and open their doors with concerts at certain times of the year promise you hours of fun.
Car Rental in Tekirdağ
Renting a car in Tekirdağ will allow you to explore the city with ease and pleasure. You can make your booking for renting a car in Tekirdağ by phone or via our website.
Budget Tekirdağ Car Rental Office
Address: Turgut Mah. Ataturk Bulvarı No: 22 Tekirdağ
Phone: (0282) 263 6016
www.budget.com.tr
Addresses
Kastro National Park: Çamlıköy Saray Tekirdağ
Hora Lighthouse: Hoskoy Town Şarköy Tekirdağ
Rüstempaşa Mosque: Ertuğrul Mah. Tekirdağ
Rakoczi Museum: Ertuğrul Mah. Macar Sok. No: 32 Tekirdağ
Namık Kemal House: Eskicami-Ortacami Namık Kemal Cad. Tekirdağ