Trabzon Tour Guide
Hit the Road to Trabzon
Trabzon
There are so many places to visit in Trabzon, so it is very difficult to decide how to prioritize. "What are the places to visit in Trabzon?" and "What to eat in Trabzon?" questions have long answers. We received some tips from people living in Trabzon so that you do not get lost in the options. It is worth remembering that their first recommendation is to come by car or rent a car. After renting a car in Trabzon, you can plan your day by considering the recommendations we have compiled for you.
What to Eat in Trabzon?
Of course, one of the first answers to this question is "anchovy"! You will be surprised by the variety of dishes made with anchovy in this city. A list that goes on like meatballs, dible and soup... Cabbage dishes and kuymak are also indispensable for the city cuisine. Akçaabat meatballs, baked beans, Hamsiköy rice pudding, anchovy rice, nettle soup, kuymak, black cabbage soup, black cabbage wrap, panned leek, pita and pickled beans are also the dishes that locals of Trabzon talk about with appetite.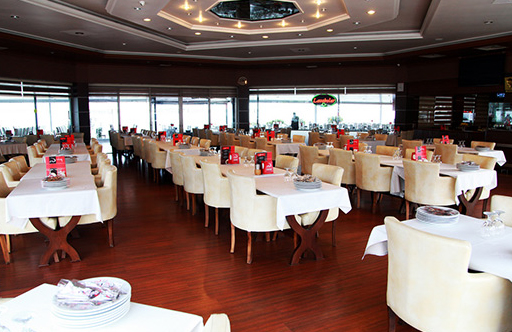 Where to Have Breakfast in Trabzon?
Kuymak, which is the number one of breakfast tables in Trabzon, is prepared with butter, corn flour and çeçil cheese. The first condition to start the day like the people of Trabzon is to eat kuymak for breakfast. The number of places that offer kuymak for breakfast is too much to underestimate! For this reason, it is very easy to taste this dish, especially if you rented a car in Trabzon!
In Trabzon, you can consider open buffet or mixed breakfast alternatives in addition to the breakfasts that offer local flavors. We are sure that you will start your day with great pleasure in this unique city of the Black Sea.
Where to Eat in Trabzon?
After seeing Trabzon throughout the day, you can think about where to have lunch and dinner. However, since you have many different alternatives in this subject, you must first decide what you want to eat. Because the questions "Where to eat Akçaabat meatballs in Trabzon?", "Where to eat pita in Trabzon?" have very different answers. Trabzon restaurants, which offer delicious options both in the center and in the districts, will exceed your expectations!
Places to Visit in Trabzon
The first suggestion of the locals of Trabzon about places to visit was Uzungöl, which is about 100 kilometers from the center. The village connected to Çaykara got its name from the lake it is near. Uzungöl, where Greeks lived in the 16th century, gained a cosmopolitan identity with the arrival of Muslims over the years. While Uzungöl used to be a village far from civilization, it became a tourism center after it is discovered by travelers. This is a paradise for nature lovers and those who want to get away from the city. Your soul will be refreshed in Uzungöl.
Located very close to Uzungöl, Şelersu Plateau is a very large highland. You should definitely add this plateau to your route, which will allow you relax with its natural beauties and fresh air.
Trabzon is very generous when it comes to plateaus. Kiraz plateau, Mavura plateau with all shades of green, Kuruçam plateau, Hıdırnebi plateau, Pazarcık plateau and Yılantaş plateau and many more are waiting for you!
Another point where you will meet nature in Trabzon is Lapazan Plateau. Lapazan in Gürgenağaç Village, approximately 55 kilometers from the city center, is an oxygen-rich plateau at an altitude of 2200 meters. Lapazan in the middle of dense forests should be on your list of places to see.
Historical Places of Trabzon
It is estimated that Sümela, an ancient Greek Orthodox monastery, was built in the 4th century AD. Overseeing the valley above the Black Hill in Altındere Valley, the monastery is 1150 meters above sea level. Sümela Monastery, about 50 kilometers from the center of Trabzon, fascinates those who see it and dazzles not only with its appearance but also with its frescoes. The frescoes depicting subjects such as the Virgin Mary, the creation of Adam and Eve, and the expulsion from heaven are just a few reasons to see Sümela.

You can spare your time in the city center for Trabzon Castle and Hagia Sophia Museum. Built on Byzantine ruins, Trabzon Castle is located on the highest hill of Trabzon. The magnificent city view makes this place an attraction point. It would not be wrong to say that watching the sunset here is a tradition.
Hagia Sophia, one of the late Byzantine period churches, is another important building in the center of Trabzon. It was built in the 13th century by the order of King Manuel I of the Komnenos family, the founder of the Trabzon Empire. It can be visited as a museum today. Details of the Seljuk architecture stand out in the building, which is one of the special examples of Greek mastery. Religious reliefs and animal patterns are some of the details that shed light on Trabzon's past.
Nightlife in Trabzon
Trabzon is one of the cities with the most vibrant nightlife in the Black Sea. Locals of Trabzon say that even people from neighboring provinces come here to have fun. There are various places that Trabzon locals recommend to those who want to go out at night. Apart from clubs that enjoy live where live music performances are held, venues where concerts are organized at certain times of the year also energize the city.
Trabzon Car Rental
You can explore the city with pleasure by renting a car from the Budget Trabzon office. You can make your booking for renting a car in Trabzon by phone or via our website.
Budget Trabzon Car Rental Office
Address: Trabzon Airport
Phone: (0462) 325 6555
www.budget.com.tr

Addresses
Uzungöl: Uzungöl Village Çaykara Trabzon
Lapazan Plateau: Gürgenağaç Village Maçka
Sümela Monastery: Altındere Village Maçka Trabzon
Trabzon Castle: Ortahisar Mah. Trabzon
Hagia Sophia Museum: Fatih Mah. Trabzon